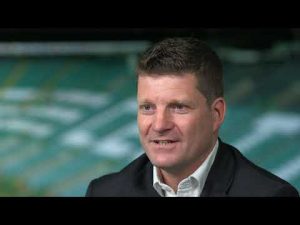 From the outside nobody really knows what's going on inside a business. None of us really know what is going on inside Celtic and how much modernization that Dominic McKay keeps referring to needs to be undertaken.
None of us know the quality of the staff at Celtic and how much their ability to implement their ideas was stopped by the strong management style of Peter Lawwell. None of us really know how much autonomy Peter Lawwell had with a major shareholder like Dermot Desmond, and none of us really know how much regularity oversight the non-executive directors undertook. But there are some things we do know that allows us to piece these things together.
We know that Dermot owns only around 30% of the club yet at every AGM he receives over 99% approval to be re-elected by the shareholders. This indicates that the other major shareholders are aligned with Dermot and agree with the principle that this major shareholder is the major decision maker. We also know that Peter Lawwell was involved in all major decisions at the club from transfers through to commercial contracts.  The biggest indicator of this is on the transfer side Peter's involvement was a well stated policy.  On the commercial side of things, I never heard any of these executives referenced at the AGM.
With such a forceful personality in place as Peter it will be clear that Dominic McKay, despite shadowing the chief executive, will not have been involved in any unilateral decision making until the 1st of July. Moreover, even if he wanted to, with Peter still in situ, how could he say "Ahhhh.  WTF has been going on here"?  That's just not how the world works.  Dom's first month as the CEO finishes at the end of this week and so the obvious question is – how much modernization (as Dom keeps referencing) does he have to do?
Again, this is difficult to know from the outside however, what we do know is the club went into this very important transfer window with no head of recruitment. The club went into this transfer window with a minimal scouting network based overseas and not even the size even of midtjylland, who have three scouts in Columbia alone. We know the state of the playing squad and we know that scouting for a summer window starts round about October/November of the previous autumn therefore even if Dom had started implementing changes from the 1st of July they would not have been in place to allow us to have the transfer window we need this summer.
Whilst we know that the football division is a mess (the manager left in January we have no head of recruitment and half the first team playing squad were leaving in the summer). What we don't know is how much modernization Dom needs to do throughout the business because everything in a company the size Celtic will be interlinked, but we have some indicators:
With the changes required due to the COVID restrictions those fortunate in a ballot to get a ticket for a home game are having to print their tickets at home because the infrastructure at Celtic Park doesn't cope with QR Readers. That may seem like a small thing, but it's the small things that give an indicator of the large things. In addition to the QR Code Readers everybody who sits in the main stand will give you feedback on the fact that this is a 50-year-old facility and feels like it in terms of the food outlets available and the toilets within it.  As my mate says, he walks through the turnstiles and smells the piss.
So what do we know about Celtic? We know that the football division is a complete mess with no head of recruitment, no suitable squad and no scouts. We know, for a club of our size, that Lennoxtown needs an upgrade, with a three quarter size indoor pitch which would have been better not being built at all and we know that Barrowfield is still used by young squads and is marginally improved on the facility that I used with Celtic Boys Club in 1981. We also know the main stand has had a minimal upgrade around the centenary season and again around the early 1990s when Fergus came and we know we have no ability for mobile ticketing. In short, we know that this business needs improvement and modernization from top to toe from the football division to the infrastructure to the fan facilities and if those aspects are dated and need modernization what else within the business that we can't see requires a major upgrade. As an outsider (an informed outsider) looking in, Celtic needs a major overhaul because it has stood still in terms of investment in the people and investment in the infrastructure for at least 10 years.
Within the small world of Scottish football, major advancements could be done in the next 12 months although obviously COVID has been a huge setback, but it is clear to me the next six to 12 months are going to be a very bumpy ride and unfortunately due to the terrible baton handover, it is human nature that the honeymoon period of Ange and Dom will be exceptionally short.
Rome wasn't built in a day, but they were laying bricks every hour.  Let's hope Dom is.