Our Summers of Discontent
From May's Feelgood to September's FA
by Critical Bill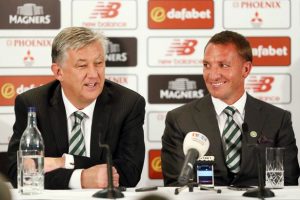 It was George Santayana who said "Those who cannot remember the past are condemned to repeat it.".
Every time I read that quote I can only think how on earth do those who run Celtic not fail to see that staying still when in a position of strength is always asking for trouble.  Their almost consistent failure to push on from a good place  is beyond me and many of the supporters I know.
Go back thirty years to 86/87.  After coming up on the blindside and winning the 85/86 title whilst Rangers appointed Souness, Davie Hay's reward was getting told that he would need to fund any new players out of his own pocket.
Wind forward two years and Billy McNeill let it be known that he wanted new signings after the Centenary double.  Unfortunately those that ran the club thought otherwise.  August the 27th  1988 and a 5-1 drubbing at Ibrox exposed the magnitude of that folly.
It was the same in 1998 and 2003, although the latter could be justified on the basis of our debt.
And since 2002 we have lived in the era of transfer windows when the timescale to address your squad is limited.  And it is the current board's total inability in numerous transfer windows to wheel and deal that has been troubling.  In 2008, 2012, 2013, 2014 and 2015 significant failures occurred in recruitment.  However none of those seasons prepared me for the shambles that was this summer.
Before going further, it should be pointed out that I am not accusing the Board of hoarding money nor is the failure to strengthen the team just down to this summer window or the men in suits.  Collectively the club has let the supporters down but for some at the club, making a moses of a transfer window is not a new thing – some have serious form in this regard.
If you want to look at what has gone wrong, you have to begin your examination at the start of the year. The January transfer window was a disaster with Musonda, Compper and Hendry all falling under the category of dismal.  And its impossible not to point the finger at the manager for that one.  Compper with his age and lack of resale value is NOT a Peter Lawwell signing.  And if reports are true about nobody actually having watched him in a couple of years, then that is a shocking indictment of our scouting system.
Musonda was also a player badly wanted by Brendan and we took on his wages.  As for Hendry, it is painful, truly painful watching him just now  And he badly needs a break from the team.   I hope he can turn it around but he was always a project at best.
However these signing errors and weaknesses were evident by April of this year.  Musonda was sent back to Chelsea in May.  We had plenty of time and money to put things right.
At the start of the summer, the word was that we wanted a right back, a midfielder to replace Armstrong, a creative player to fill the gap left by Roberts and to re-sign Edouard.  We achieved only one of those objectives properly – Arzani will likely need a significant time to adjust to Scotland and Mulumbu is someone who will more than likely ease the pressure on Brown rather than fill the void left by Armstrong.
As for Dembele, the whole point is that he would do well for a couple of years and we would then sell him on.  £20M is good business but the whole episode is fatally undermined by the lack of any replacement.  To not have anyone lined up as a third striker (and rumours of Louis Moult – god help us) means that the strategy becomes a total liability and holds back the team.  Then there is the centre half position.
It is clear that Brendan wanted Boyata to stay at the club.  But it was also plainly evident that the player was hoping for a move away with a failure to agree a new deal at the end of last year.  The World Cup was a shop window and after playing in Belguim's first three games, the chances of him staying were next to zero.  At that point surely both the manager and CEO should have got together to look at alternatives.  Don't get me wrong, Boyata's attitude has been nothing short of disgraceful but the lack of blindingly obvious forward planning has left us at the mercy of such shocking behaviour.
Perhaps what we now know and hear of how the CEO handled situations to address the Right back and midfield positions explains Rodgers reluctance just to accept a bid for Boyata.  There were deals there to be had for Piccini and McGinn to address two areas of the team this summer.  Instead our CEO chose to play hardball and the deals stalled allowing other clubs to nip in and buy the players.  Those of us who have watched the CEO closely over the years cannot be surprised.  So many transfers involving him take ages to get over the line.  Many others fail to do so.  Lowball bids, offers with more strings attached than a maypole, negotiation wars of attrition. So often that appears to be the Modus Operandi of Peter Lawwell.
Don't believe me ?  Go back to 2008/09.  The transfer misses began at the start of that season and not in January when we ended up with Crosas and Loovens. Two players who never made it as first choice picks.  We ended up with them after our CEO played silly buggers with attempts for other players and taking so long to agree suitable offers that players involved had other options.  This was all before the Stephen Fletcher saga.   And its worth noting on Fletcher that whilst we would never know if he would won us the title, he did earn Burnley a huge profit after they agreed to Hibs asking price.  We however eventually bought Marc-Antoine Fortune who we sold for a loss a year later.
In 2012 we sold Ki and had earmarked Markus Henriksen of Rosenborg as a replacement.  After months of painful toing and froing, we watched Alkmaar – in the last week in August – stump up a fee of £1.6M for a then 20 year old Norwegian internationalist whilst we couldn't agree to the club's terms.
In 2014 we stared in disbelief as Ronnie Deila went into CL qualifiers playing Tony Stokes as lone striker.  We knew that Ronnie liked playing with one up front.  Yet those running the transfer dept were not able to identify and buy a striker fit to do so, until we were out of the CL.
A failure to do transfer business promptly and properly meant that come the end of the transfer windows we have signed the likes of Bangura, Pukki and Scepovic whilst other such as Guidetti and Lassad arrived after the window had shut.
The quicker you can get a transfer over the line in terms of agreeing fees and wages, the better your window is likely to be.  If having got to a stage where the negotiations are at an end quickly then you will either have the player or know that he doesn't fancy it.  And if its the latter then you move on to the next one – and there is still time left before you are forced to rummage about in the bargain bin.
However if your CEO always feels that he can squeeze more juice out of the other side then discussions will turn into a quagmire and   taking months to get to the decision point leaves you even more vulnerable to getting gazumped (something the other party will take great delight in doing if they feel you've been a chancer).
It also narrows your options for alternatives as many will likely have gone.   At least two folk have I know have used the phrase "he can't help himself" when describing Peter Lawwell and his attempts to be cute when dealing with bringing players in.
I get the fact that if money is tight you have to cut your suit etc….But there have been plenty of cases of false economy.  If the difference of £2K a week cost us Olivier Giroud when he was in the French 2nd division, how much of a bigger dent did the alternative – Rasmussen – make to Celtic's overall financial picture ?
And remember when it comes to mucking folk about we are every bit as guilty as agents and other selling clubs.  Ask Kramaric's agent what he thinks of Celtic.  Or the Stromgodset directors on how we handled poaching their manager.
What I found astonishing is that by all accounts Peter Lawwell appears to think that his record in transfer negotiations, is a feather in his cap. Its like he thinks he is Lancey 'the Man' Howard when in fact his, is all too often, a very easy hand to read.  And you should only go in for brinkmanship when you hold all the aces.  Unfortunately in most cases we don't.  To use another movie analogy, Harry Callahan once said, "A man gots to know his limitations".  I don't think Peter Lawwell does.
One of the things that really annoys me is the complacency amongst many Celtic supporters at those of us who are not in awe of how the club is run.  You get comments on message boards that describe Celtic as the best run club in the world and those of who dare to point out mistakes as having a sense of entitlement.  If Celtic were that fantastically run then we wouldn't have made a prospective assistant coach, the manager in 2014.  And we would have done better than to make the Champions league Group Stages on only 4 occassions in the past decade.
I am also fed up of the EPL being used as an excuse for our transfer woes.  The likes of Ajax, Basel, Anderlecht, Club Brugge and Red Bull Salzburg all face similar situations to ourselves but they will go out and buy players early in the transfer window and have excellent scouting networks in Scandinavia and the Balkans
You should also remember that Peter Lawwell – the CEO – who has presided over the club for the past fifteen years is one of the best paid football directors in the whole of the UK.  We might not be able to afford EPL wages or transfer fees but we can match them on boardroom pay.
For this current malaise around the club since the start of the summer I blame the Board 70% and Brendan 30%.  The manager has to take responsibility for January and spouting off just before the AEK was not a good move.  It badly effected the atmosphere and achieved nothing positive whatsoever.  His comments about Tierney earlier in the window were also NOT constructive
Despite that, Brendan Rodgers deserved to be backed this summer.  He has brought us unparalleled domestic success and has seen many of the players go up in value (and whose judgement do you trust instead – the CEO who brought Colin Kazim-Richards and Bangura ?)
Instead we have stagnated, stood still, mucked about and a very winnable tie in the CL was thrown away.  Here's the thing.  If we had faced a team that had been bankrolled by an Oligarch and was shopping out of our league, then you have to accept that the Group stages may be beyond us.  If we had an injury crisis the the same applies.
But knowing at the start of the summer that Lustig needed competition/replaced and for your centre halves to be a combination of Ajer/Hendry/Simunovic is frankly unforgivable.  If you behave like a Europa League team that is where you should play.  And we are.
This should be Peter Lawwell's last summer as Chief Executive.  He has been CEO for far too long, is grossly over-paid and his many transfer and managerial blunders get glossed over far too easily.  Unfortunately I think it will be Brendan Rodgers that is forced out as the likes of Tom Allison and Brian Wilson will always back Peter Lawwell (indeed Allison – a personal friend of PL – being head of the remuneration committee is a disgrace and appalling corporate governance)
Questions too have to be asked of the scouting.  Does the scouting dept justify a cost that only sees the recruitment of players who were scouted by other teams (Arzani), or who we knew about long before Lee Congerton arrived (Benkovic and Edouard) or played for opponents who we've faced in competition (Bain, Mulumbu )
I think the question though that Celtic fans have to ask themselves is how can the joy of a Double Treble and an open top bus parade in May end up feeling like this today.  And which manager with any reputation worth a docking is going to work with Peter Lawwell.
Whilst I don't think he should have spoken out the way he did, Brendan Rodgers was spot on, when he said "It's not rocket science. You have to always guard against becoming complacent and the way you do that is by adding to the squad".  Its actually so obvious yet its something that I believe that the current directors are incapable of seeing.  We seemed doomed never to kick on when we have set ourselves up well.
Another writer to this site made the very good point of suggesting that Peter Lawwell had better of not forgotten where he put the banner to cover the Lisbon Lions Upper Stand.  But if we are talking about going back to that stage then is it not time to ask if the Chief Exec and his cohorts on the board are now an albatross around the club's neck ?