Last week I had the privilege of interviewing the esteemed journalist, Rodger Baillie, for a podcast on this site. As well as being great company Rodger was kind enough to let us copy his Sunday Mirror interview with Jock Stein, just three days after Lisbon 1967.
This is reckoned to be Jock's first major interview after Lisbon as he was contracted to the Sunday Mirror.
Rodger was fortunate enough to be Jock's ghost writer for his Sunday Mirror column for around 15 years. Pages 1 and 2 are the interview (check the interview for Toffee Treets !).
Page 3 shows the big man with the big cup reading through his many tributes after victory.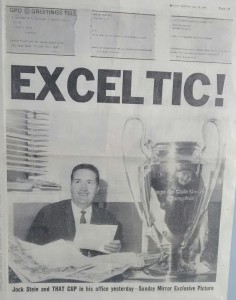 Page 4 shows a close up of telegrams Jock received from Scot Symon (Rangers manager), Matt Busby (Man United manager) and Danny Blanchflower (Spurs captain).

It is hoped Rodger has more Stein interviews which he will share with us in the months ahead.
NB – Click pics for bigger image to read.