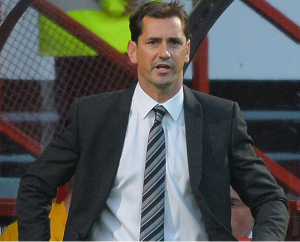 There was a time when Scotland had the same type of managerial diddy-go-round to be found in the English Championship: manager fired because the club wants to go to the "next level", he gets a job with a mid-table club with aspirations looking for a manager who may get them to play offs.  He over attains, gains automatic promotion and gets fired when side is playing above their ability.  He's then hired by a club in crisis looking for that steady hand…and so on.  You know the script.
Fortunately that cycle has in the main been broken in Scotland in recent times, allowing for young managers such as McNamara, Lomas, Hartley, Murray, Lennon and Lennon to be tried. – some more successfully than others.  Much talk has been made of the flair of McNamara's Dundee Utd with the media hardly hiding their desire to see Aberdeen and Utd usurp Motherwell and other less well-supported sides as the best of the rest.  Peter Houston resigned from Utd rather than manage under a budget reduced even further than the one he believed was insufficient.  It is with this background that the media are very forgiving of the blips along the way as McNamara has tried to create a free flowing, young attacking AND WINNING Dundee United.
Many Celtic fans are also keeping an eye on Jackie's progress.  Not just because he graced the hoops for such a long time, but also because in this modern world of disposable managers, we have already had Lennon in situ longer than most at top clubs.  Moreover Lennon himself has hinted in interviews that he would be surprised to see himself still at Celtic Park much beyond the
next season or two.  Consequently (and knowing our current boards strategy) Jackie continuing his progression in management at Utd may well be the type of candidate we would turn too should Lennon get the move to England he patently covets.  And so we come to next week.
Rangers are on a "journey".  This is no sight seeing nor educational field trip.  Ally McCoist is not on a "journey" of self discovery or enlightenment.  This journey for the club from Ibrox is only about getting to the destination as quickly as possible.  Once they get there they will asses what to do next.  As part of the journey they have been provided all assistance possible.  When this club was formed the authorities did everything they could to break the rules and provide them with an unfair advantage.  That the authorities failed to achieve their objective and managed only minor rule breaking to facilitate this new team starting in the bottom tier has led to bitterness from all sides.  Bitterness from most Rangers fans who have been brainwashed into the insane narrative which denies liquidation ever occurred and bitterness from the rest of Scottish football.  I don't think The Rangers nor Scottish media and authorities realize – the fans of EVERY club in Scotland HATE this Rangers.
Next week they will be close to one of these destinations when they play a Scottish Cup Semi-Final.  They have been given umpteen advantages: home advantage, the majority crowd, and even a good old fashioned "homer" ref with a former season book holder at Ibrox officiating.  It is into this environment that Jackie Mac will step – a 90 minute interview for the position of young Scottish manager to be given a shot at the big time (Celtic or an English Championship job).  Jackie needs to ensure he young players play the team and not the name.  They will play The Rangers who have just won promotion from TWO TIERS below them.  This Rangers are crap and their only hope may be some dodgy refereeing and young Utd players freezing as they play the Rangers brand and not the current side.  Jackie has a good side and their performances to date have looked good on the managers CV.  As Lenny has experienced, real managerial ability is tested in the ability to get players minds and tactics right for one off occasions– The CV and application for best rising young manager has been submitted – Saturday is the interview