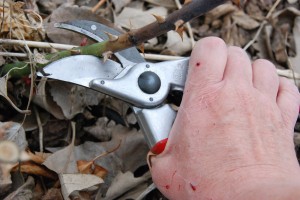 By Lachie Mor
At this time of year, as one Atlantic depression follows another across our small but hopefully soon to be independent country, nothing seems further from one's mind than gardening. On those few days recently where wellies or strong shoes were not de rigeur to keep one's feet dry, the wind was a constant factor causing a necessarily stooped walk and a prayer that the roof would stay on the house.
Despite this, a walk round the policies offers ample evidence that life continues and that new growth  has already begun to defy the elements, as bushes and shrubs put out buds, and some flowers are already in bloom. This would no doubt be the case even if the plants were completely neglected and allowed to grow unfettered, but as any fan of Gardener's World might tell you, preparation is the key to next Spring and Summer's displays and crops.
You may well ask dear Reader what any of this has to do with Celtic Football Club and the form of our beloved but often benighted Hoops. It is my opinion however that the analogy between team building and gardening is apt, since the business of building a team has echoes in how a good garden is brought to fruition.
It is relatively easy these days – if somewhat expensive – to drop down to the nearest garden centre and buy already fully developed plants and simply transplant them into one's own patch of ground. A slightly cheaper option is to purchase bedding plants and small shrubs which will require a fair deal of patience and cultivation before they bloom fully. An even cheaper, but more labour and time intensive way is to follow the advice of such as Carol Kline and Monty Don, and to select your own seed crops and cuttings, plant them in well prepared ground, nurture them with patience and devotion in the right conditions and environment, and hope that there will be amongst the many, some really terrific specimens.
In these dark days of winter our team has struggled to a series of hard fought but uninspiring wins against doughty opponents who have their own agendas – in which letting Celtic cruise to the title undefeated is not a priority. Loud has been the complaining in Tim world and the lack of interest in attending recent matches cannot be wholly blamed on the weather.
You will recall the scene in Gladiator where Maximus makes short work of several opponents and defies the crowd with the challenge – 'are you not entertained?' That they paid good money for about 30 seconds of slaughter is a matter of indifference to the victor, but as the Lanista, played by Oliver Reed points out, he himself gained his freedom by winning the affections of the crowd, and to do that, entertainment is key.
The manager's role in the unsatisfactory nature of these performances seems unclear. He can argue  – as he did yesterday post match – that in recent seasons these are matches that we might not have won, while this group of players has sufficient nous to grind out the win and take the 3 points.
This assessment may be  right on the money but it is not really what people pay to see.  It is not, to use a cliché – the Glasgow Celtic way.
A couple of weeks ago when Dundee Utd were in their pomp, with Scotland's Messi lighting up our screens weekly, it occurred to me that it was only a matter of time before they hit a slump and so it came to pass – 3 defeats in a row. Similarly the other sides in the league – some of whom are really quite good to watch – are all capable of beating each other and that barring some truly bizarre collapse the destination of the title is pre-ordained.
Given this – and it has nought to do with the fact that a new club still plays in the nether regions despite the groans and complaints of the Huns with laptops – the idea of finishing the league season unbeaten is really a sideshow, and is in my opinion, getting in the way of developing the team and finding a better and more attractive playing style which will not only lead to domestic success, but allow us to compete in Europe, where technique and game intelligence will always outdo effort. The only competition where remaining unbeaten is a priority this season is the Scottish Cup.
It was always my contention that if Celtic worked as hard as any other Scottish team, they would win, since they had better players.  The opposite is true in Europe.  A.C. Milan and Ajax  worked as hard as Celtic did, but were technically more competent and tactically more astute.
If we are going to persevere with the same personnel week in and week out – playing the same formations and grinding out wins at the expense of growth and player development then we will not improve.
I, like every one else, enjoy seeing new faces and the transfer window provides a fascinating diversion twice year, but I am actually somewhat dispirited to hear the manager talk as if the only way to strengthen the team or improve them is to seek new signings.  That he seems so intent on re-signing Ledley and Georgios – both high wage earners – and both to my mind symptomatic of what is wrong with the team, is depressing.
Loud are the complaints on message boards and twitter about what are seen as bad signings, when some them have never really been given a run in the team – a run such as Stylian Petrov described in his interview where Kenny Dalglish told him he would play for ten games no matter what happened.  That was for Petrov the key to his emergence as a Celtic player.  We have no end of youngsters who have competed in the youth leagues – sweeping all before them for years – who have yet to play more than minimal time for the first team.
Yesterday in his post match interview Jackie McNamara was asked if his young team had now entered a slump – his response was that they are young and there is "No better place to learn than first team games'. This is a philosophy which Neil Lennon does not appear to embrace. In recent games – from what I have seen – no one has played better than Darnell Fisher and yet he was dropped for the game against Thistle. Atajic was not even in the squad on New Year's day and yet his cameo show against Motherwell was of the highest quality – no, the manager brings back Samaras.
I have long been a fan of the gorgeous Greek, but I feel his time has run out as a Celtic player.  For all his abilities he simply doesn't do enough.  Joe Ledley on the other hand plays to his best most weeks but he is limited and we already have sufficient journeymen – I don't think he would be greatly missed and the money that they both take up at present might be better invested.
Biton and Rogic interest me.  On the video evidence at their previous clubs, they were both dynamic forward thinking players. Biton in particular was seemingly adept at receiving the ball with his back to the opponent's goal, turning either way and initiating attacks from nothing.  In his appearances so far he has played cautiously most of the time – laying the ball off and rarely taking full responsibility.   Rogic on his first appearance was MOTM and showed enterprise and confidence in everything he did.  That player has not been seen since. Depressingly, Nir is beginning to resemble a tin-type of his manager.
If the manager is serious about 'growing' and nurturing a better Celtic team, greater focus has to be directed on promoting our own young players, and in giving the players he has signed a real chance, rather than the default position he learned from his own mentors – Martin and WGS  – of always playing safe.
He has a nucleus of potentially great players, the sort of player that talented youngsters and newcomers can grow alongside, but he needs to adopt the attitude of a knowledgeable gardener and believe that his young shoots will grow, given the right care and conditions.
We will never have a better opportunity to do this.  We have the best team in the country. We should be able to play without fear, and express ourselves in the manner that was seen at Tynecastle and Fir Park, but if he always reverts to type and chooses 'experience' over potential we will remain less than we might be.
I offered a view on Twitter yesterday that in the life of any coach there comes time when excuses for poor performances and bizarre team selections cease to impress even the most devoted fans.  When that happens it is time to  reach for the pruning shears and cut to the quick – to do nothing invites even more criticism.
The author can be found on twitter – @LachieMor1