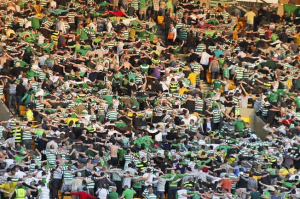 In the last few weeks there was much debate about freedom of speech and the fact that it is the ability to offend that defines liberal western democracies, a debate that was not lost on those campaigning against the ludicrous OBA.  Regular readers will know I am no fan of some the the songs sung at away grounds HOWEVER I do believe that self censorship is better than the state sitting in judgement of what is or isn't in good taste and suitable for us sensitive souls at the football to hear.  This silly act was introduced following a game between Celtic and Old Rangers and with the the forthcoming game against those same supporters following the latest variant of the brand currently owned by Sports Direct again the OBA, and the songs it outlaws, have come to the fore.  This past week we have had reports of Police Scotland training staff on what offends them!  Police being trained as to what is offensive and then the only people who bring a case after being offended are the same police whom the state told them what is and isn't offensive. The Soviets couldn't have invented such nonsense.
What was of particular interest was the list of songs mentioned this week by The Daily Record as being considered offensive – a list which it now appears was formed not by investigative journalism but by a couple of diddies sitting around the coffee machine and exposing their own prejudice.  We were told that songs like The Soldiers Song were, after consideration, approved – aye that EU member state anthem just scraped by we're told.  The songs that didn't make it included The Ibrox Disaster Song and The Celtic IRA song – WHAT UTTER NONSENSE!  40 years of going to CP every week and i had to google these songs to check their existence.  So how do I know that these writers have embarrassed their trade by penning nonsense?  Well Police scotland met Celtic this week and provided the following information;
Police Scotland can only give information in relation to the behaviour which we believe is likely to result in Police action.  We cannot with certainty predict the final outcome at court, however we do not submit cases unless we are satisfied that we have given prosecutors sufficient evidence to proceed.  
Behaviour which has previously resulted in police action and court conviction in relation to Celtic FC supporters  Singing of:  
• Celtic Symphony where the words 'oh ah up the ra' are used;
• Roll of Honour due to its showing support for members of proscribed terrorist organisations;    
• Boys of the Old Brigade due to its reference to joining a proscribed terrorist organisation; and
• Bring Them Home where the words are changed to 'IRA will set them free'.
Behaviour which has previously resulted in police action and pending court cases in relation to Celtic FC supporters   Singing of:
• Willie Maley where the add ons 'and the IRA' and 'fuck the Queen and the UDA' have been used; and
• Forever and Ever / Green Flag Flying High due to its reference to 'no orange bastard'.
This cannot be regarded in any way as list of 'banned' songs and must be regarded simply as information on types of behaviour which have previously resulted in individuals being reported to prosecutors.  However, it should give individuals some assistance when deciding whether or not to engage in such behaviour.  In addition, as songs and lyrics evolve or emerge, the types of behaviour which result in Police action will also evolve.