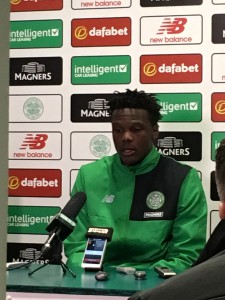 Reports this morning are that Fulham have made a £9m offer for Dedryck Boyata, possibly signalling the end of the 27 year olds Celtic career.  Boyata is entering the final year of his contract and as early as October Celtic have known that he may well be moving on this summer.
Boyata has had his ups and downs at Celtic, but from January last year has been Brendan's first choice centre half.  In Octoberthe club first attempted to speak with his agents about a new deal but they have not responded to repeated requests for a meeting since then, making it clear that they were waiting to see how much World Cup time he got and how this added to potential interest.  As we know, Belgium reached the Word Cup Semi's and Dedryck played in most games.  after such a tournament, the interest from England, Turkey, Spain and France has been no surprise.
Regardless of the potential offers, Brendan Rodgers has also confirmed that Dedryck Boyata is unlikely to feature against AEK Athens in the forthcoming Champions League ties, making it likely that we will see a return to a 4/3 of Lustig, Ajer and Jozo with KT switching in as a left back/left wingback depending upon the game situation.  When asked if Dedryck would feature Brendan said "We'll just assess that.  He's been back a week so we'll just need to see we're he's at."
The implication of Brendan's comments was that it would be just too soon for Dedryck to play this week however when pressed upon whether Dedryck would play in the away leg Brendan seemed a bit more open to the prospect "If it wasn't for this midweek we would certainly look at the away leg for sure."
There are some still unsure of Dedryck (one of whom writes for this site) but he was a key member of the Belgian side who reached the World Cup semi-final and has been one of Brendan's first picks for around 18 months.  He is a World Cup star, however to get circa £10m for a player in the final year of his contract would be a terrific piece of business and with the English window closing this week, matters will be resolved quickly.  Hopefully with all these funds and with the English loony window closing early WE can start getting some business done.