Last night I had the privilege of attending The Penalty Spot in Glasgow's Dennistoun for the launch of the Celtic in Art 
Celtic in Art is a stunning collection of 23 oil paintings, commissioned by Celtic author and historian, Tom Campbell, and painted by Cuban artist, Yoanis Rigo Comet. These works are now available to purchase, along with a selection of limited edition prints. The prints were hugely impressive and detailed some of Celtic's finest moments and greatest players from the early days to the 21st century.
John Cairney was in attendance and most Celtic fans will be well aware of him. He was one of Scotland's finest stage and screen actors through the decades and never hid his deep affection for Celtic. He is famously recalled for being Celtic's celebrity team member in the late 1960's TV show, Quizball, a general knowledge quiz for football clubs, which the Celtic team of Cairney, Billy McNeill, Jim Craig and Willie Wallace, won several times.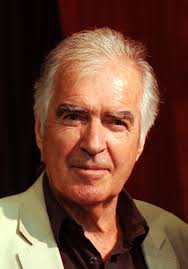 John, now 88, is clearly a very talented man and put on display a painting of his own, which depicts 50 of the greatest players from Celtic's history.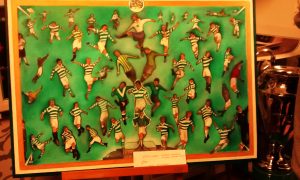 He also recited a poem he had recently written which I thought was worth sharing on this forum. It's called 'When Saturday comes'.
    The week is a blank cipher, a vacuum of days brimming with tedium
                            Motions are gone through unthinkingly
    The hours, like sacks of sand, are lifted heavily from one day to the next
      Time laden corpses, dead to the world – but mysteriously resurrected
                                         When Saturday comes
                    Six days had gone before, unconsidered and uncared for
              Fused by habit into a single, enduring mass, stoically suffered
                        As pain before day birth, before all comes to pass
                            As on a coming afternoon at the stroke of three
                              Inert time, hanging empty, will kick into life
                                             When Saturday comes
                        Unreason will return, point given back to guilty days
                 The morning surges in anticipation, noon is high with colour
                 At last there is something to aim for even if it is only goalposts
                                  Just the thought takes your breath away
                                                When Saturday comes
      The minutes to kick off are savourous as the clouds which burst high in the sky
                  But even the rain is drinkable as you stand alone in the crowd
                                            Wrapped in your excitement
                Euphoria swells in your heart, you are a willing part of it all
       As round the ground, the sound billows and melds into a solitary HIM
                   A sum of maleness which is you and many likes of you
                  Blended into team-shirt identity for ninety brief minutes
               The week has been resolved and brought to it's proper pass
                                 And in its mass, a goal has been achieved
                So that when events have come and gone on the pitch
                                          With high exhilaration
            We remember it was good and we impatiently wait for the next exultation
                             And can't wait until another Saturday comes
So that's it. Not many football clubs' supporters can claim to have Cuban artists and classical actor's recite poetry on the same bill. Hail Hail the (classical) Celts are here…