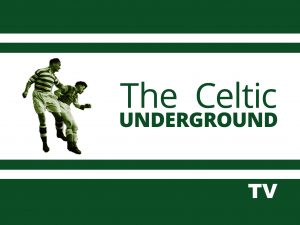 If you've listened to this week's 9iar Chronciles Podcast you will know that Hibs Hibs'ed it this season.  In with a chance of an amazing quadruple in late February, they went on an amazing run of  draws and defeats maning that the title then became a shootout between the big Glasgow two.  With just 2 games to go it was neck and neck.  Rangers blinked first and Celtic then knew that if they won at Easter Road on the final day they were champions.  48,000 people attended the 3-0 victory and saw Celtic complete their 8th league title;
From the Celtic Wiki
Hibs make Celtic fight for the title and until the second goal it could have gone either way. Rangers win at Ibrox so Celtic's win was essential in the end. The experience of Murdoch and Johnstone was essential on the day.  Easter Road is a sea of green and white but not a Hibs scarf in sight.
Celtic fans sing proudly: Eight in a row ! Eight in a row ! Hello !!! Hello !!!
From antshistory on KDS:
I remember that day. Harold Wilson was emerging from the North British Hotel in Princes Street just as a huge contingent of Celtic fans arrived at Waverley Station after the match. His limo was parked outside and was getting rocked from side to side, and the security guys could do absolutely nothing. Wilson looked really scared, but then the Celtic fans started singing "Haaaarold Wil-son, Haaaarold Wil-son" at the top of their voices and he started smiling and waving. Not sure what happened after that as I got pushed further along Princes Street by the crowd. Great memories!
There were a few fitness doubts after the Arbroath game. Jimmy Johnstone and Bobby Lennox who were tryign to throw off ankle and groin injuries respectively, both had run outs with the Reserves early in the week against East Fife Reserves
The last League game of the season. Rangers had to win and Celtic had to lose to deny the Eight in a Row.
Big Billy elected to play down the slope first half.
Celtic fans in a ferment from 71 minutes on.
Jinky uses experience to great effect with keeping possesion late on.
Champions. 8 in a row !
Estimated 40,000 Celtic fans in Easter Road on the day.
George Connelly voted as Scottish Footballer of the year for 1973 before this match.
Man Utd rumoured to be interested in Kenny Dalglish who is rated in £300,000 bracket but Stein says Celtic want to buy and not sell.
In the Reserve League on the same day Celtic defeated Hibs 6-1 at Celtic Park. The Celtic team was Williams, J. Davidson, Quinn, McLaughlin, McDonald, Watt, McNamara, Wilson, V. Davidson, McCool, Prentice. Sub O'Hara. The Celtic scorers were McLaughlin 3, Prentice 2 and Vic Davidson.
Hunter, McGrain, Connelly, Hay and Dalglish are named in the Scotland squad for the home international games.
Teams
Hibernian:
McArthur, Bremner, Schaedler, Stanton (Smith), Black, Spalding, Edwards, O'Rourke, Gordon, Cropley, Duncan.
Celtic:
Hunter, McGrain, Brogan, Murdoch, McNeill, Connelly, Johnstone, Deans, Dalglish, Hay, Callaghan. Substitute: Hood
Goals: Deans 2 (22, 80), Dalglish (71) .