Firstly, a bit of friendly advice. The twitter account Tweet Celtic '78-79 (@_Tweet_Celtic_ ) is highly recommended for those who may remember the 1978/79 football season. The account details in full all the happenings on the corresponding day forty years ago and will do so until May. In December 1978 Celtic were in a bad way but (spoiler alert !) there will be good news in the forthcoming months.
Thinking back to 1978 reminded me of some of the Christmas presents I received that year. None of them were expensive  as there were no mobile phones or designer clothes back then (not in Govan anyway) but all of them were hugely enjoyable for the 13 year old me.
The first one may come as a bit of a surprise for a Celtic supporter such as myself; a Saint Mirren strip.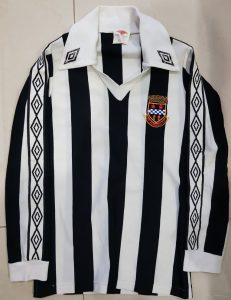 There is a good explanation for this and it's quite simple. My mother refused to allow me to buy me a Celtic one. I have since discovered that a lot of guys my age had a similar issue with their parents who were concerned with their kids wearing 'colours'. Therefore that is why my second choice was a Saint Mirren strip. It was an Umbro kit and was typical of their design of that period with diamond trimmings and an embroidered badge. Tony Fitzpatrick and Frank McGarvey were terrific players at that time who had made a big impression so it was the Paisley Buddies for me. The strip was purchased in Pitchers Sports shop in Paisley which many people may recall for a particular reason. In 1979 a teenage gang broke into the shop one night they turned the air rifles they found in the store on the Police who were in attendance outside to apprehend them. It made front page of the next day's newspapers and was the source of great amusement at school at that time.
Next up was the staple choice for any Celtic fan at Christmas – the Playing for Celtic book.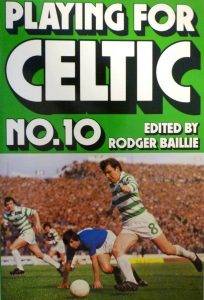 In 1978 it was number 10, with big Shuggie Edvadsson on the cover, and was edited as alway by the excellent Rodger Baillie. The book was the usual mixture of articles and glossy colour photographs of Celtic players but this one was tinged with sadness as it was a recollection of the 1977/78 season which had been an absolute shocker for the Celts.
Long before the advent of computer games and 'Fifa', the game of Subbutteo was the most exciting game for schoolboy football fans. I was no different and the good news is my Ma was more accommodating letting me get the Celtic Subbutteo team than she was a Celtic strip. Although it was termed as 'table football' many a happy hour was spent playing on the carpet due to lack of space and even lack of a table although this would often result in broken players. A special mention must go to an old mate of mine, James Murphy from Langlands Road, who had space to play on a table. For us, as boys, this was the Subbutteo equivalent of playing at Wembley.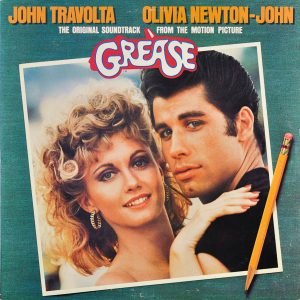 I received two albums for Christmas '78. Both were hugely popular film sound tracks from the period. The first one was Grease. I had loved the film which I had seen in the Lyceum cinema that summer. I'm not a huge musical fan but who can fail to enjoy the antics of Danny Zuko, Kinickie and the T-Birds? Oh, and Olivie Newton John in that tight fitting outfit at the end. The film was so popular at the Lyceum that policemen had to be in attendance to monitor the huge queues along Govan Road to get in. Reason being that queue jumpers had caused some aggravation and fights had broke out on occasions. Grease is the word right enough.
The second album was Saturday Night Fever. The soundtrack was pure 70's disco and is still music I can listen to this day although at that time I was too young to see the film as it was an 'X' (now an 18). John Travolta was at the peak of his popularity in his white three piece suit. In later years I saw the movie and found the storyline rather dark despite the great music. It told the story of Tony Minero who lived a dull, mundane life and only found excitement at the weekend in New York discotheques. It also catalogued the unhappiness of Tony's priest brother and, let's face it, it has an extremely gloomy ending.
Christmas 1978 was a much simpler time to live in. Midnight Mass, long lie, presents, turkey dinner, Morecambe and Wise. Happy days indeed. Can't beat that.