In 1970 the highly esteemed England and West Ham captain Bobby Moore requested Celtic's service to play in his testimonial match.
At the time of this game Celtic could rightly regard themselves as one of THE giants in the world game. Two European Cup finals in three years had established their credentials as a super power but, more importantly, people realised that with Celtic's attacking  philosophy under Jock Stein they would always be a great attraction and many clubs then made requests for Celtic to appear in benefit games and 'challenge matches' as they were called in those days.
Jock Stein was clearly delighted at West Ham's invitation for Moore and regarded it as an honour being asked to come south and it shows the high esteem Celtic were held in those days. Moore was one of the best players in the world and had enhanced his reputation with a fabulous tournament for England in the 1970 World Cup finals in Mexico and was, of course, England's 1966 World Cup winning captain. He was loathed by a certain element of the Scottish support (wonder who that could be) who took great delight in verbally abusing him every two years at Hampden in the home internationals, but Bobby was a very disciplined and dignified player who rose above such nonsense.
With his blond hair, good looks and Captain's demeanour Bobby Moore stood out from the crowd on and off the park. When playing for England he hardly broke sweat and that gleaming white number 6 England jersey of his was never ever soiled. He was a class act and as purveyors of the finer elements of the game the Celtic supporters appreciated that class. Jimmy Johnstone played with him in the States in the 1970's and spoke highly of him both as a man and as a player so that's good enough for me.
The game finished 3-3 and was an exhibition of everything good in football and makes for fine reading. A good friend of mine was at the game, he was only 12 at the time but he raves at the memory of two great teams going flat out for victory.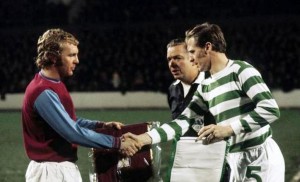 I read Bobby Moore's biography, written before his sad passing in 1993, and he recalled John Cushley's arrival from Celtic in 1967. Bobby enjoyed playing with Cushley in defence and big John could certainly be described as 'rugged'. This made Moore's job a lot easier which he appreciated, as big 'Cush' handled the physical aspect of the game to allow others to play. However his aggressive stance did not always sit well with West Ham manager Ron Greenwood who was very much a football purist and more interested in the technical part of the game.
After one particularly stormy game, the West Ham players trooped back into the dressing room feeling particularly happy after a hard fought win. Cushley had been instrumental in this victory with his rough edged play and the West Ham players were clapping him in appreciation, when old Ron finally blurted out 'For God's sake John is there no other way we can do this !' much to the amusement of the other West Ham players.
Alex Ferguson recalls playing against Celtic reserves when their half back line was Cushley, Kurila and McNamee. He claims they were the hardest half back line he ever faced in football. Kurila, of Lithuanian descent, was nicknamed 'Kurila the gorilla' and McNamee went on to have fine spells with Hibs and Newcastle. Pat Stanton recalls big John going round the Hibs players in the Ibrox dressing room warning them that if they did not give their all during the game then they would answer to him afterwards, quite an intimidating prospect. Kurila's claim to fame was that he was part of the Colchester side who sensationally knocked the then mighty Leeds United – Bremner, Giles et al – out of the FA Cup in February 1971.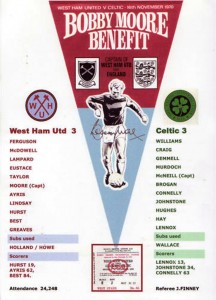 What is important to remember is that any one of these men would have been a fine replacement for Billy McNeill and had the great Caesar not been around they may have gone on to achieve great things at Parkhead.
CELTIC RISE TO THE OCCASION IN TESTIMONIAL
WEST HAM UNITED 3-3 CELTIC
___________________________________________
Bobby Moore, England's captain, will remember his testimonial match last night at Upton Park as one of the great occasions of his life. Celtic, the Scottish champions, put on a display of the football arts worthy of such an evening, winning themselves a host of new friends and admirers,
West Ham are disciples of attacking football, and on the heavy ground they met the European past masters of attacking football at their peak. The score does justice to the efforts of both sides in an encounter that turned the green surface to an earthy brown long before the end.
Celtic should have won the match. There were two palpable misses, one by Lennox in nine minutes and one by Johnstone in the dying seconds. But both players must be forgiven for otherwise turning in a display that breathed of quality.
The first half belonged to Celtic, who moved sweetly forward with Johnstone causing havoc in the middle and Hughes was his usual awkward self amongst the sorely pressed West Ham defenders.
Lennox made amends for his early miss by scoring in twelve minutes but six minutes later Hurst headed home a good goal from a massive cross field kick from Moore. However Johnstone added a second for Celtic to conclude a sparkling passing movement.
For the early part of the second half Celtic were very much in command with Bobby Murdoch dominating the midfield. But West Ham were determined to give their captain his full reward, and 17 year old Ayris, showing real promise on the right wing, lobbed home an equaliser in 63 minutes.
Celtic came storming back downfield and, in another minute, Connelly who had been a stalwart in the attack, thundered one in from 25 yards off the left hand post.
Celtic slowed in the closing stages and Best headed an equaliser for the third time from Hurst's cross. Wallace, who substituted for Hughes, came close in the remaining seconds and then came Johnstone's dreadful miss. Only a yard out from goal and with no one blocking his path, he skied the ball over the bar.
WEST HAM UNITED – Ferguson McDowell Lampard Eustace Taylor Moore Ayris Lindsay Best Hurst Greaves
CELTIC – Williams Craig Gemmell Murdoch McNeill Brogan Johnstone Connelly Hughes Hay Lennox
Referee J Finney (Hereford)